Editor's Notes: CNAC's first Chinese born pilot and Captain in 1936.

From Gene Banning's notes of 8/31/00:
"(Canadian citizen) hired in U.S. ckd out 1942 (correction - 1936; Moon F. Chin); was next to last pilot to leave CNAC, returned to NYC in 1949.

---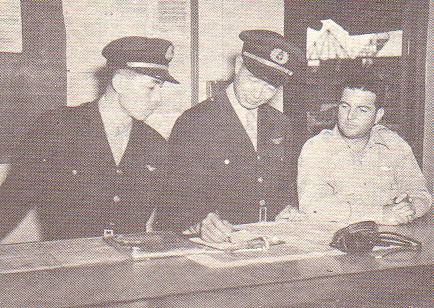 Unknown, Hugh Chen and "Mac" McDonald
(Photo from "Wings Over Asia Volume II")


How about this great shot taken in Egypt...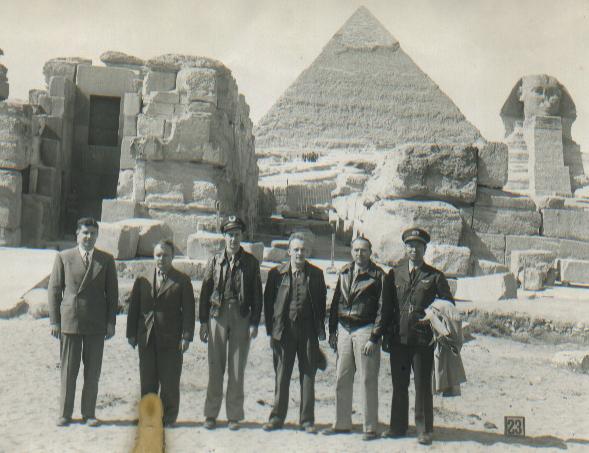 Egypt by the pyramids
-- left to right --
Bob Sherwood, Melvin Smith, Andy Longbotham, Rolph Preus, Jim Tate, Hugh Chen (Chinese senior Captain)
(Here's a close-up of those faces)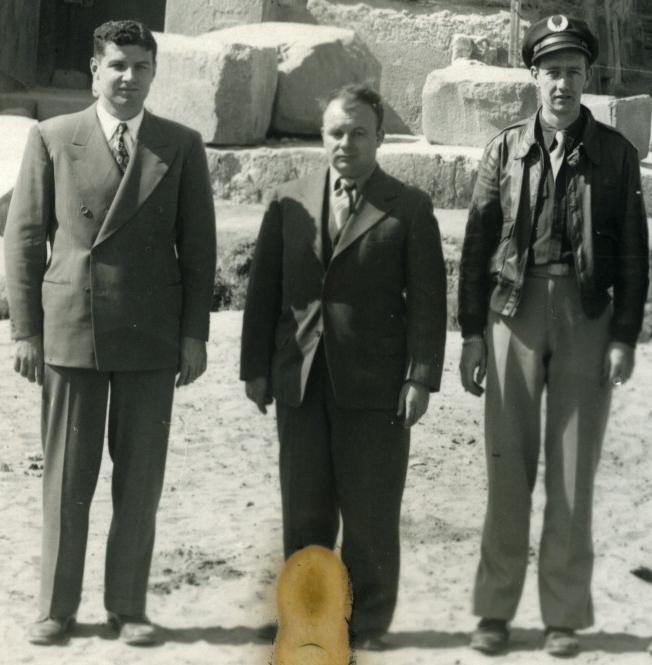 Bob Sherwood, Melvin Smith and Andy Longbotham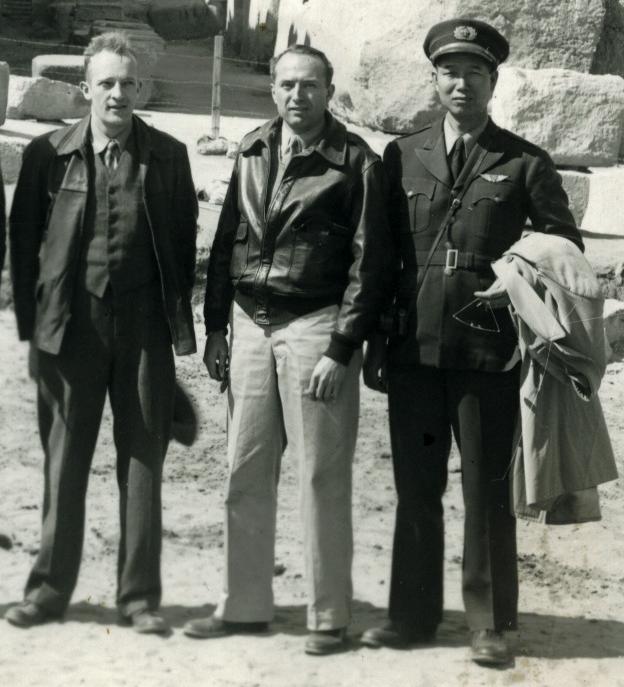 Rolf Preus, Jim Tate and Hugh Chen
---
August 1, 2003

Dear Sir:

My husband, Harold Law, accidentally came across information about my adopted father, Hugh Chen, who always signs his name Hugh En Chen.

I am Helena Chen Law. The first daughter of Hugh Chen's nephew (Ding-Tze Chen) who was a radio operator in CNAC. My own father died in a plane crash in KunMin on Jan 15, 1945. In January 1946 my older brother, Han-sheng Chen and I were put on a plane in Chung King to Shanghai. Mr. Hugh Chen met us at the airport. He was a pilot in CNAC and also the Manager of the Shanghai airport. From then on Han-sheng and I lived with Hugh Chen and his wife, Dr. Beulah Huang. Later because Han-sheng did not get along with Beulah Huang, he was sent back home to my own mother, so my younger brother, Hwa-sen came to live with them.

In 1948 we four flew quietly out of Shanghai and lived in Kowloon until 1951. We two children were given English names, Helena and Herbert (Herbert Hwa-sen Chen-a is now a professor of Physics in University of California at Irvine). Because my grand-uncle was black-listed in the Chinese Communist newspaper in Hong Kong, he and grand-aunt quietly applied for teaching positions in the Methodist High School in Sibu, Sarawak, so we all could live in a safer place. The government gave us visas in 3 months. Sarawak at that time was a British Colony, now it is East Malaysia. Mr. Hugh Chen taught in this English language missions school for 4 and half years. We two children were officially adopted as his children during the application process for immigrating to the United States during this time. After we were settled in Sibu, my grand-aunt left for the US on a previous visa.

Hugh Chen, Herbert, and I applied for immigration under the Refugee Relief Act and came to the US in August 1955. We lived in New Hyde Park, Long Island. We were the first family to be granted admission to America under this Act from Southeast Asia. Mr. Hugh Chen worked as a travel agency contact person for Pan American Airways on 42nd street, NYC until his retirement in 1968. He lived in Flushing, Long Isand from 1958-1975 October when he had a stroke and I moved him to St. Louis to live with my husband, me and our four children. He passed away on Valentine's Day February 14, 1993 at the age of almost 94. (He told us that he was born in 1901) He was cremated and his cremains were buried in his home village in Fuchien, China in May 1993. He has two grandsons, Ming You in Texas and Nelson Chen in Colorado. They are sons of his daughter Ruth Chen (deceased) from a previous marriage.

In June 1988 my father, my daughter Jeannette, 2 other friends, and I took a trip to Singapore. Many former CNAC co-workers honored him at a banquet at the Inter-continental Hotel. He astonished everyone when he was so alert and enjoyed the delicious food and seeing everyone that evening! I am sorry that I did not get the names of all the people who were there! (NOTE: If you were there, please let ust know. Thanks.)

This is a very short account of my beloved father's life that I know. If you have any more questions, I will try my best to answer you. I have some photgraphs of my father in his later years. If you wish, I can send them to you!

You can print any of the information I wrote you on the website to inform many of his colleagues in CNAC of Hugh Chen's life after 1949. By the way he joined CNAC in 1933! He trained many of the younger pilots in CNAC!

Helena Chen Law




This cocument is courtesy of Helena Chen Law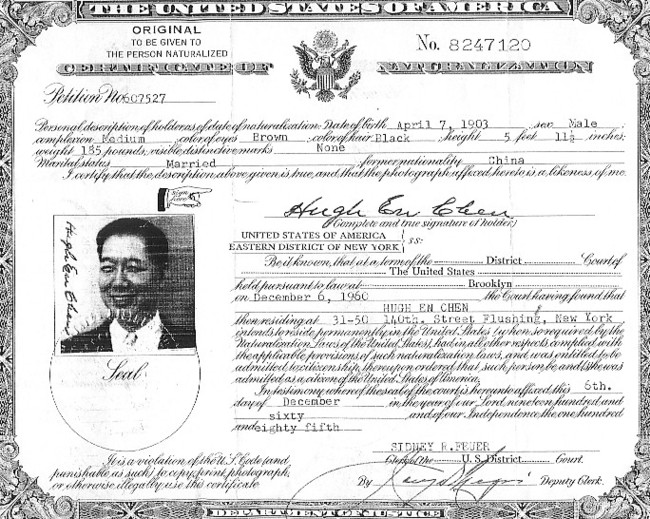 If you can share any information about Hugh En Chen
or would like to be added to the CNAC e-mail distribution list,
please let the CNAC Web Editor, Tom Moore, know.
Thanks!