In the 1943-45 log book of Don McBride, Richard gave his address as:


Rolf Brandt Preus
3640 Park Ave. So.,
Minneapolis 7, Minnesota
---
From John Kenehan's list of pilots, Rolf was checked out as Captain on July 14, 1945.


---
June 4, 2001
The Preus family has been contacted and a cousin to Rolf B. Preus, Rolf D. Preus, provided the following picture and information on Rolf B.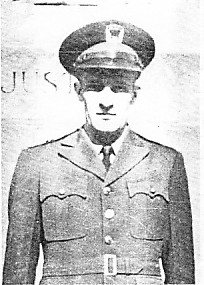 Rolf B. Preus - ca. 1942


Rolf Brandt Preus was born April 5, 1916, in Beloit, Wisconsin, son of Johan Carl Keyser Preus and wife Diderikke Margrethe "Dikka" Brandt. Rolf had four sisters and one brother. His childhood was spent at the parsonage of East St. Olaf Church, Rock Dell, (Byron) Minnesota; attended Pacific Lutheran Academy and College; Junior College diploma 1935. He had a keen sense of humor and a deep affection for his family. Assayer, Kimberley Gold Mines, Burgdorf, Idaho, 1935-1939. University of Minnesota engineering School, 1939-1941. Pilot U.S. Army Air Transport Command, 1942-; flew the "Hump": Assam, India-Chungking, Kunming, China, 89 trips. Following the war he continued to fly for Chiang Kai Shek's China National Aviation Corporation; he and two pilot friends flying Chungking-Hankow-Shanghai, Christmas Day, 1946, crashed in Shanghai in China's "Black Fog", due to poor weather information and to very antiquated and inadequate landing facilities. The other two pilots died that night in the crash of their planes. Rolf survived, but was severely injured, bones broken, skull fractured; hospitalized in Shanghai, in Oakland, California, and in Minneapolis, where his left leg was amputated, 1947. He recovered sufficiently to work in the office of the Olson Equipment Co., (construction equipment) Minneapolis, 1952-58, where he was shown every consideration and treated like a favorite son. He developed chronic leukemia (discovered in 1954); died Good Friday, March 27, 1959, at Faiview Hospital in Minneapolis, and was laid to rest at Lakewood Cemetery, Albert Lea, Minnesota. He said, "When I was trying to land in the fog, I only had time to pray 'Dear God, please take care of me, Thy will be done', then I had to concentrate on my instruments again." His final greeting to his many loyal friends: "Tell them, Rolf has gone on his long last flight."

April 27, 2007
NOTE from Bob Willett (cousin to CNAC Co-Pilot James Browne)

Also, I read the update about Black Christmas with great interest. Rolf Preus had a long correspondence, first with Quentin Roosevelt then with Owen Johnson about a settlement for injuries in his crash. He lost his foot and part of his left leg as a result of the crash. He finally got a $5,000 settlement in late 1949 after Bond wrote him that the airline's future looked bleak and he should take it before there was no airline. A sad case.

Bob


---
How about this great shot taken in Egypt...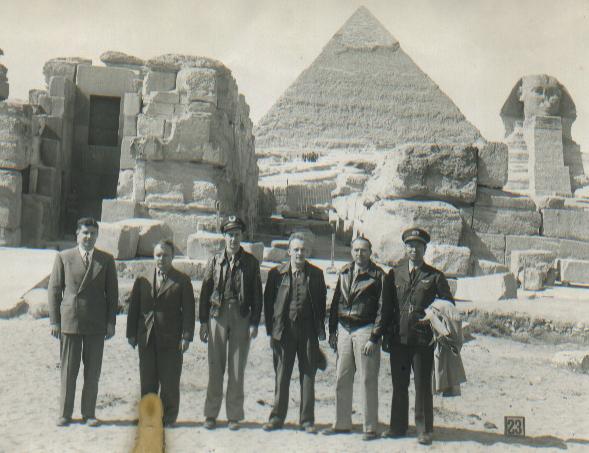 Egypt by the pyramids
-- left to right --
Bob Sherwood, Melvin Smith, Andy Longbotham, Rolph Preus, Jim Tate, Hugh Chen (Chinese senior Captain)
(Here's a close-up of those faces)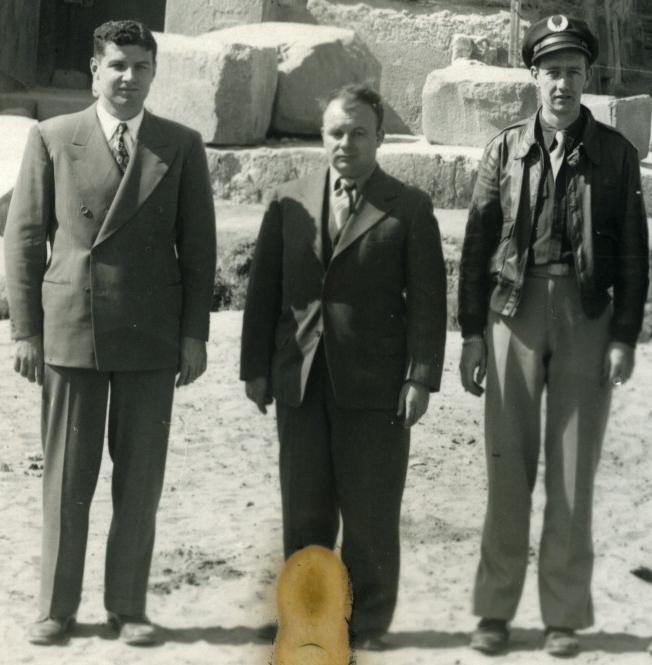 Bob Sherwood, Melvin Smith and Andy Longbotham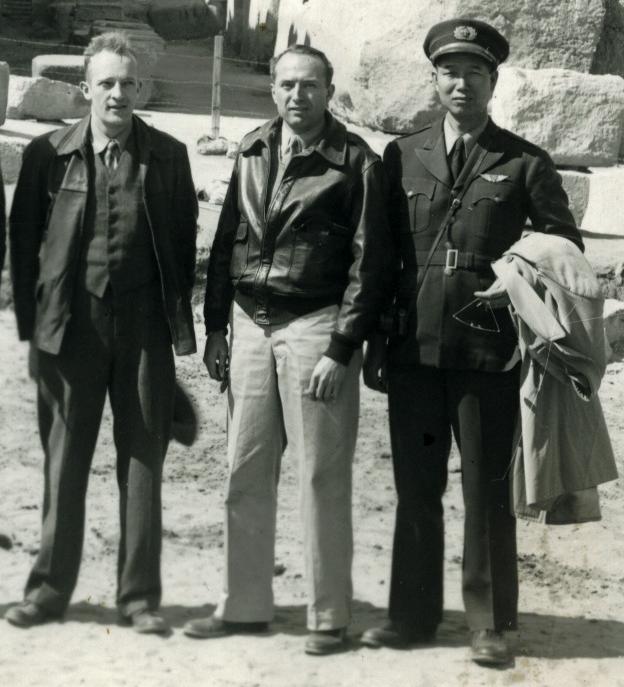 Rolf Preus, Jim Tate and Hugh Chen

If you would like to share any information about Rolf Preus
or would like to be added to the CNAC e-mail distribution list,
please let the CNAC Web Editor, Tom Moore, know.
Thanks!