The CNAC Web Editor would like to thank Bill Gilger for providing the following information and photo.
In the U.S. Army, Bill was assigned to CNAC in 1944. He remained with CNAC for 34 days. In those 34 days he made 22 trips out of Kunming. Bill says, "I never kicked anything but rice -- 40 tons of it! Thirteen of us enlisted men (volunteers) were placed on detached sevice to the Air Corps, seconded to the Burma Road Engineers and assigned to CNAC support duty. Campisi was one of the thirteen. Nida was sent along in charge of the group to try and keep us out of trouble. Kenehan says Nida also flew - something I was not aware of."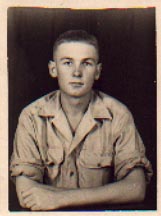 India
July 24, 1944
Bill - 19 Years Old




THIRTY-FOUR DAYS WITH CNAC
by Bill Gilger
(Edited a little from the original article, which appeared in the Cannonball in 1998.)


I returned to Kunming on September 23, 1944 from an ill-starred tour into Kwantung Province. Z Force was my unit and we were seconded to Chinese forces in groups of three or four to gather information and help train Chinese troops.

Having stopped atabrine (anti-malarial drug which turned us all yellow and malaria emerged as we stopped the pills), I entered the Kunming Hospital with malaria on October 7th and was released back to my unit on October 15th. Reporting in I saw a notice on the bulletin board advertising for volunteers to kick rice. At nineteen years of age this sounded like just the thing to do.

Thirteen GIs and one small Lieutenant (name of Nida) sent along to keep us out of trouble arrive at Hostel #5 (Kunming airport) on October 23, 1944. There we found CNAC C-47s as a surprise since we had assumed we would be in AAF planes. We didn't wait long; my initiation to kicking rice came on October 24th in Plane 66 piloted by Ray Hilgert.

The routine was with the pilot, two Chinese kickers and myself. We would leave Kunming early make the drop and go on up to Dinjan and have lunch while cargo was loaded aboard for the return trip. The Chinese kickers were rounded up and sent back together and the pilot and I would wait for a plane - not usually the same one and return was not always with the same pilot. Going back to Kunming (usually arriving after dark) it would be just the pilot and myself. In the 22 drops I made this routine never deviated.

The rice cargo to be dropped was made up of two thirty-pound jute bags inside a larger bag making the unit 60#. We loaded 60 bags each trip totaling 3600#. An aside - seemed to be a thing with most pilots (maybe all, can't recall really) that during their rather casual walk-around prior to take-off they would stop at the tail wheel and water it down. I did the same when appropriate and it seemed to work for me.

On arrival over the drop area the pilot would make one pass at the target and signal me to toss one bag out in an orientation exercise. Then as he took the plane around, the Chinese men and myself would stack approximately 12 bags in the doorway. They were stacked with the bottom two bags laid atharwtship(?) side by side across the doorway and right on the sill. The balance of the bags was then kriss-crossed to establish a stable pile. One of the Chinese would lie with his back against the bulkhead opposite the door and his feet against the pile. The other Chinese would stand forward of the door grasping the rear forward ear of the forward bag.

I would stand aft of the door grasping the rear after ear of the after bag. It was always a race to get the bags in place before the plane's circuit was completed.

On the second approach to the target the pilot would signal drop and we would push and boost the pile out. Then I would hang out the door to (try to) count the target hits. We then did the same thing for four more circuits. That meant six passes at the target and we could go on to lunch.

We did not use safety lines as did the AAF crews - may have had them I don't recall. Also the parachutes were tossed in back of the cockpit - never saw anyone put one on. Only almost lost it once. It was a drop south of Ft. Hertz - a mountain drop anyway where the pilot had to pull up abruptly turning to the left (unfortunately) as he went up. On the first pass, as I leaned out to check the drop, he went up and left, my body stayed down as I lost grip on the handhold. One Chinese grabbed my foot and the one in the doorway with me grabbed my belt - I was out almost to the waist. I forgot the target count.



THE 22 DROPS WERE:

DATE
PLANE #
FROM - TO
PILOT
10/24/44
66
Kunming/drop/Dinjan
Hilgert
10/24/44
77
Dinjan/Kunming
Hilgert
10/25/44
70
Kunming/drop/Dinjan
Blackmore
10/25/44
77
Dinjan/Kunming
Blackmore
10/27/44
89
Kunming/drop/Dinjan
Prescott
10/27/44
95
Dinjan/Kunming
Prescott
11/1/44
94
Kunming/drop/Dinjan
Wiss
11/1/44
88
Dinjan/Kunming
Wiss
11/3/44
62
Kunming/drop/Dinjan
Wilson
11/3/44
62
Dinjan/Kunming
J.E.M.
11/4/44
89
Kunming/drop.Dinjan
Codrea
11/4/44
89
Dinjan/Kunming
Codrea
11/6/44
62
Kunming/drop/Dinjan
Kenehan
11/6/44
92
Dinjan/Kunming
Codrea
11/7/44
96
Kunming/drop/Dinjan
Snyder
11/7/44
68
Dinjan/Kunming
L.C.
11/10/44
87
Kunming/drop/Dinjan
Goutiere
11/10/44
88
Dinjan/Kunming
Goutiere
11/11/44
88
Kunming/drop/Dinjan
(oops, can't read initials)
11/11/44
04
Dinjan/Kunming
Allen
11/12/44
88
Kunming/drop/Dinjan
Pollock
11/12/44
96
Dinjan/Kunming
Fong
11/13/44
05
Kunming/drop/Dinjan
(can't read name)
11/13/44
76
Dinjan/Kunming
Dalby
11/14/44
88
Kunming/drop/Dinjan
Gilliland
11/14/44
06
Dinjan/Kunming
Crapuchettes
11/15/44
96
Kunming/drop/Dinjan
McCraken
11/15/44
02
Dinjan/Kunming
Kenehan
11/16/44
77
Kunming/drop/Dinjan
Codrea
11/16/44
04
Dinjan/Kunming
Crapuchettes
11/17/44
03
Kunming/drop/Dinjan
Stuelke
11/17/44
55
Dinjan/Kunming
Pollock
11/19/44
64
Kunming/drop/Dinjan
Monahan
11/19/44
92
Dinjan/Kunming
Fong
11/21/44
77
Kunming/drop/Dinjan
Codrea
11/21/44
03
Dinjan/Kunming
Bussart
11/22/44
03
Kunming/drop/Dinjan
Browne
11/22/44
96
Dinjan/Kunming
Huang
11/23/44
87
Kunming/drop/Dinjan
Nasholds
11/23/44
06
Dinjan/Kunming
Kurzman
11/25/44
99
Kunming/drop/Dinjan
Nasholds
11/25/44
66
Dinjan/Kunming
Raines
11/26/44
95
Kunming/drop/Dinjan
Hemminger
11/26/44
89
Dinjan/Kunming
Holmes

On November 27th I was called back to Z Force, leaving with some reluctance. Our group had a jeep assigned to us and permanent passes. Even the officer/enlisted night alternates didn't stop the guys who could fit into the Lieutenant's uniform. Even though we flew most days, there were more days in town than we would have had with our unit. The food was good at Hostel 5 and we had a really good time of it.

That was my 34 days with CNAC. As minuscule as this period may seem, I sometimes think kicking some 40 tons of rice to the men in Burma may have been more of a contribution than all my other service. Of all the men listed above I have met only five in the past 52 years. I had lunch with Bob Prescott in the 70's and recently spent a couple of days in San Diego with Peter Goutiere, Jim Dalby, Ray Gilliland and Dick Stuelke. Of course met others including Fletcher Hanks. Most pleasant and look forward to more such gatherings.

Post-writing note:

After this little anecdote appeared in the CNAC Cannonball, I got a letter from Ray Gilliland advising me that he was the pilot on the plane where I almost lost it. He drew a diagram of the drop area explaining the necessity for the Chandell Maneuver (in a C-47!) to avoid a ridge appearing in front of the plane as we went around a hill for the second approach.
(NOTE: chandelle - an abrupt climbing turn of an airplane in which the momentum of the plane is used to attain a higher rate of climb. For a more detailed discription of a chandelle and other aerobatic maneuvers, click here.)

SHORT BIO:
-Born 1925 in Santa Monica CA
-Graduated high school from Pasadena Junior College Lower Division in 1942.
-Rejected by Navy (air arm) in Attempt to enlist.
-Drafted by Army of the U.S. in June 1943.
-Overseas March 1944 - January 1946 - CBI Theatre.
-Married December 1946.
-Graduated with B.S. from U.S.C. in June 1949.
-Two children b. 1954 and 1958.
-Worked for Matson Navigation Company May 1949 to July 1983, retiring as Senior Vice President of Matson Terminals Inc.
-Widowed January 1995.
-Presently living in Simi Valley CA.


---
If you would like to share any information about William "Bill" Gilger
or would like to be added to the CNAC e-mail distribution list,
please let the CNAC Web Editor know.
Thanks!