In the 1943-45 log book of Don McBride, Sharkey listed his address as:


Chas. Sharkey
102 Bowdoin St
Lawrence Mass.
---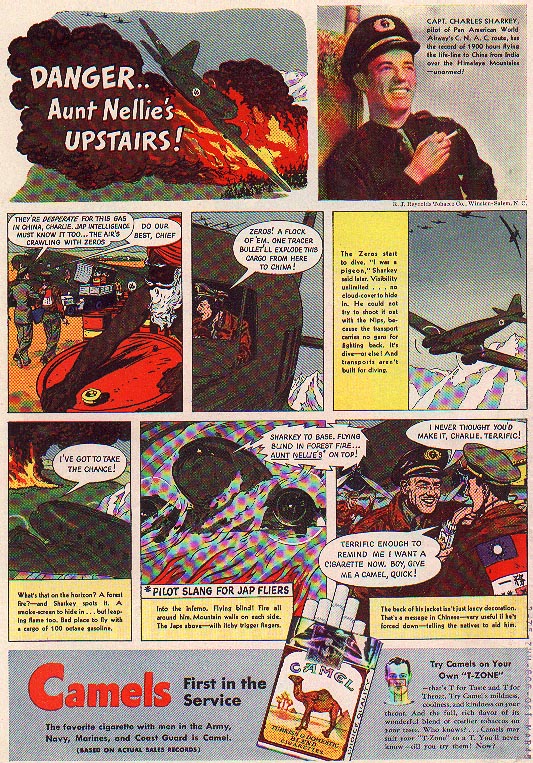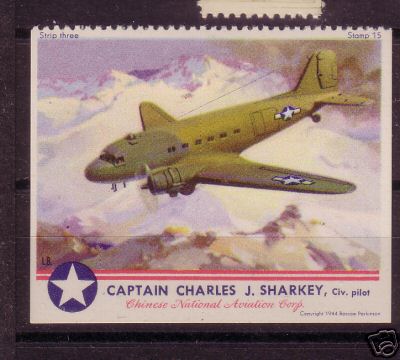 1944 American Patriotic label from a series for pilot heroes of World War.
---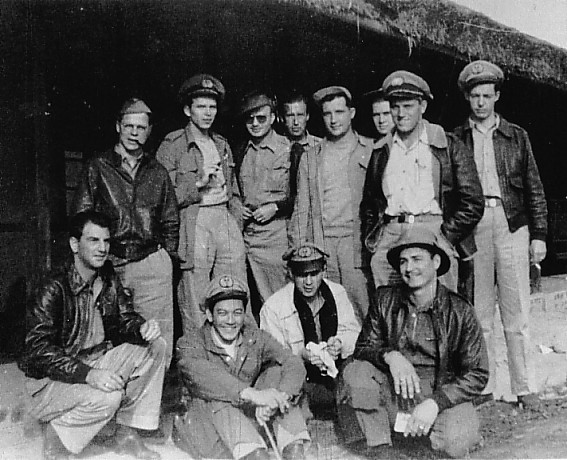 (front row left to right)
Dick Snell, Eddie Quin, Ray Allen, and Ace Richards
(back row standing left to right)
Ray Hauptman, Carl Brown, Al Wright, Arnie Weier, Les Hall, E.C. Kirkpatrick, Al Oldenburg and Charley Sharkey
(Photo Courtesy of Al Oldenburg)
---
In the 1943-45 log book of Don McBride, Sharkey gave his address as:
Chas. Sharkey
112 Bowdoin St
Lawrence Mass.

---
From Gene Banning's list of 8/31/00:
"... (RCAF) prom capt 3/43; killed in crash C-46; hit mountain near Tsingtao 1/5/47."

---
John Kenehan says, "I sure don't want to leave Sharkey out. Reportedly he was the youngest airline pilot ever at age 22. Everybody liked Sharkey, he had many, many friends. He mixed Generals, British and American, with buck privates at his parties. If he liked them, he never gave it a second thought."

---
October 1, 2001
The following was received from a pilot friend of Sharkey's, Don Riner

"I have recently seen a article on your web site about Charles L. Sharkey. I knew him and flew with him in the Royal Canadian Air Force Training Program. We were training British aircrew in Avro Ansons planes in 1940 and 1941. I last ran into him in Calcutta India in 1943, when he was flying for the CNAC I believe. I know he married a Chinese woman who was the daughter of T.V. Soong, the finance minister for Chiang Kai-shek. (NOTE: We are looking for proof of this marriage - can you help???)

I am looking for any living relative or information about him. I have much information about him before his death in 1947.

Please email me back or contact me by other means.

Thank you,

Don Riner
PO BOX 2125
CLARKSVILLE, TN 37042-2125
(931)647-0251

---
October 12, 2001 From Don McBride thru his daughter Eileen:
"Charles Sharkey was a senior pilot with CNAC when Dad arrived in China in 1943. Sharkey returned to the U.S. on leave for a few months in the late part of the war and then returned to China just before the end of the war. While Sharkey was on leave, CNAC received a number of C-46s from the states and so he missed the initial training in those new planes. Dad's last flight over the Hump in 1945 was to check out Charles Sharkey in a C-46. Sharkey continued to fly with CNAC after the war but was killed in northeast China, probably sometime in 1946, when his plane hit a mountain. Dad remembers hearing that he was doing a letdown at Tsingtao when it happened.

Dad remembers Sharkey as a nice guy and as someone who liked to play poker. Dad remembers an incident when he was sleeping in a bunk next to Sharkey and one of the guys killed a python and laid it in between Dad's and Sharkey's bunk. When Dad stepped out of bed in the morning, he stepped right on the snake and it scared the "bejeebers" out of him. He and Sharkey had that common story to tell. Sharkey was from Boston, and was sometimes called "Bean Town Charlie." He was a good pilot according to Dad. Dad doesn't know of any surviving relatives, or of his marriage to a Chinese woman. His marriage apparently took place after Dad left China.

---
November 5, 2001
"Re; Charles Sharkey. I have mentioned a lot about Sharkey in my book (Himalayan Rogue, 1994/1998) starting around page 66. He joined CNAC around mid 1942 about the same time the AVG pilots starting joining. I first met Sharkey (he never had the name of Chuck; always Sharkey), at the CNAC bungalow Dinjan in Nov. '42. He looked like a teenager. I couldn't believe he was already a veteran "Hump" pilot!

Sharkey was from Lawrence, Mass. Sharkey and Ray Allen were probably the youngest pilots of CNAC.

Sharkey's demise was a shock to many of us. A crash that should not have happened; but it did. It was right after New Years 1947? Or just before. Christmas Eve-1946 was one terrible night to remember. Three CNAC. planes tried to land in zero-zero wx in Shanghai and crashed. It was right after that, that Sharkey was on a flight to TinSin which was a US Navy base. The Navy had moved its radio station (beacon) from one side of the field to another area without notifying anyone it had done so. The weather (wx) was lousy the day Sharkey made his flight to TinSin. He had the let down chart but it was for the old location of the radio station. This put his let down further off course and into the hills I went to Chuck Sharp and told him that the Navy should be held responsible. Nothing was done. It was an unnecessary accident.

That's it for Tom, All the best.
Pete Goutiere

---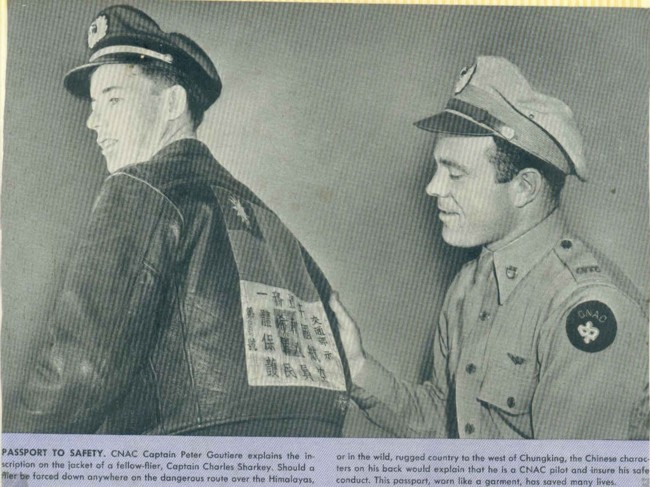 (Courtesy of Rich Newton, grandson of Captain Archie Newton)
---
FLASH!
Just received the following message from a niece of Charles Sharkey's, Eileen Sharkey, of Lawrence, Massachusetts.
May 17, 2002
"This was my first encounter with your website and I'm still too stunned to make much sense. You have a piece on my uncle, Charles Sharkey, about whom I know very little. I'll be spending a lot more time on the website while I absorb the information about him and the CNAC you have."

And...
May 20, 2002
"Dear Tom -

I would LOVE for you to add my guestbook sign-in info to my uncle's CNAC page and in fact, would appreciate having both my e-mail addy added to the page and to your distribution list. I can't speak for Nancy but will call her this a.m. in case she doesn't check her e-mail. Nancy and I are sisters --I didn't know she'd also e-mailed you.

If you have a chance to look this up and it doesn't violate any confidentiality concerns -- could I get the e-mail for Mr. Riner? I sent him a letter on Friday and of course, I mis-typed my e-mail address. I can't reach him via the CNAC posting on my office computer -- the link doesn't work -- and I haven't had a chance yet to check if it's doable on my home computer.

He was born in Lawrence, MA, on May 21, I think it was 1921, but I have to recheck that. His parents were Charles and Gertrude (Jordan) Sharkey.

My uncle was married while in China to a lady named Lydia Bowen (sp?). After his death, she expressed interest in coming to the US (she was a Chinese National, I gather, and was in some danger from the advancing Communist army). However, after many months of effort by my grandparents, they were advised by a 3rd party who met her that circumstances had changed and she no longer wished to imigrant. To the best of my knowledge, we never had any contact with her after that.

I hope someone, somewhere, will come up with some info about his wife. I never met her, but she would have been my aunt, and it would be a comfort to know if she survived the war and all the subsequent upheavals in Southeast Asia.

This is so great. I just can't believe how much information you've collected and made available, or how much more I learned about my uncle on the first day I found your website. Thank you so much.

Eileen" (egsharkey@aol.com)
114 Bowdoin Street
Lawrence, MA 01843
My work phone number (from 6 a.m. to 2 p.m.) is (617)724-3038.
My home number is (978)857-2311.

---
The Indianapolis Star
Monday Morning, January 6, 1947
(Courtesy of Don Riner)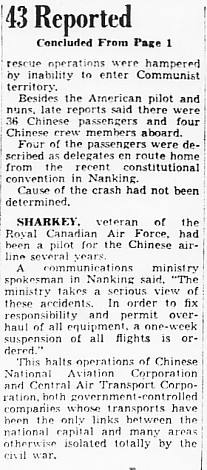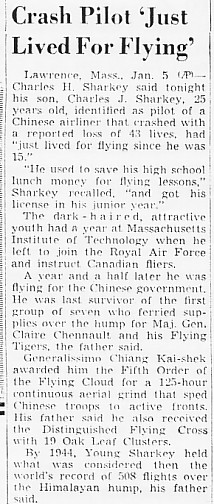 From "Wings Over Asia" Volume V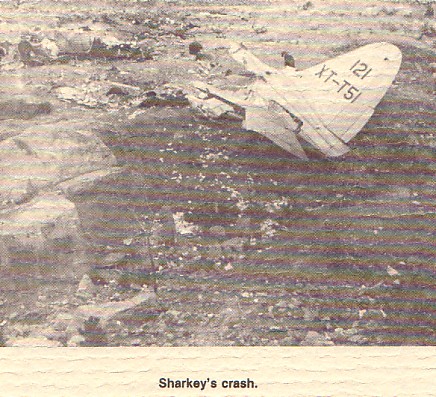 ---
September 20, 2003
Hi Tom,

I stumbled upon your website today while searching for information on Charlie Sharkey.

My name is Michael Sharkey, and Charlie was cousin to my grandfather, Robert Lawrence Sharkey. I grew up with a copy of the Camel ad featuring Charlie on my living room wall.

Sadly, I know very little about Charlie. My grandfather passed when I was very young. My grandmother described Charlie as a hero, and said she only met him on a few occasions.

Just wanted to let you know I stopped by your website, and I am appreciative of your work.

Best regards,
Mike
E-Mail mike.sharkey@rcn.com

---
March 2, 2014
I have come across some interesting documents relating to the death of Captain Sharkey.



If you can share any information about Charles Sharkey
or would like to be added to the CNAC e-mail distribution list,
please let the CNAC Web Editor, Tom Moore, know.
Thanks!