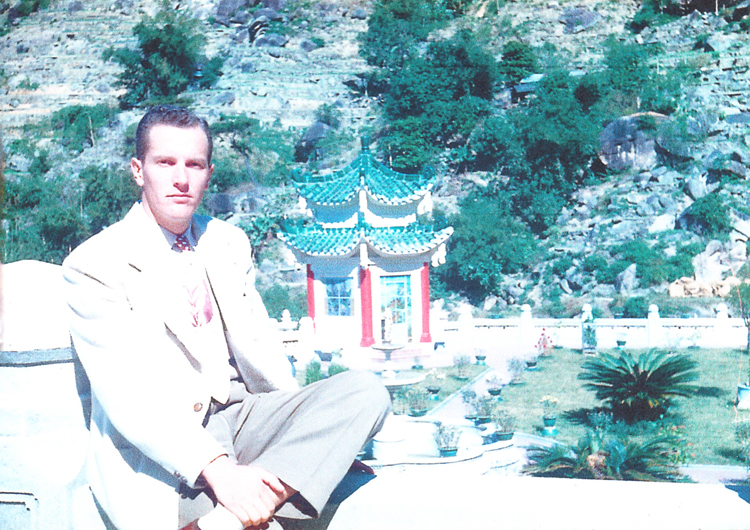 Joe - "At Aw Boon Haw's layout on the Hong Kong side"
---
November 2000
Joe has provided the following bio on his time spent with CNAC. Thanks Joe.

In the spring of 1947 the DC-4 was introduced to the fleet of CNAC aircraft. Its Transpac duty would need the use of navigators, and I, having just recently been let go by PAA's WWII needs, was ready to work for a new airline, a Voila, CNAC for its SHA-SFO route. So, off to SHA and away we go with several CNAC personnel aboard the flight captained by Joe O'Hare. I remember that Ralph Mitchell and his wife were along and others, too, as well as O'Hare's crated-up dog. We fuel-stopped at Midway, and there my kids saw their first gooney birds. On to SHA, one of the fuel stops being Iwo Jima, if my memory serves me right.

We who were navigators were tail end Charlies of the personnel list. Our predecessors were the CNAC Hump Heroes, their now new role relegating them to a much less life-threatening existence. The mostly peaceful Pacific surely being a happy change. The Hump was history for them. However, the yet primitive domestic navigation aids posed substantial risks. (Remember "Black Christmas" when Joe Michiels made it and three others crashed?)

My family and I lived at Boys' Town, the new name of the former Dutch Embassy on Edinburg Lu. Who lived there? Bill Ewing and family, Al Belski and his wife, McGinty, the Gluskins, the Healys, Applegate, and Bill Sanford. My kids played with the Ewing kids.

Ralph Holmogorzeff was the house manager. I remember so well the bundles of yuan filling a wheel barrow. Just how he got the money down to the phone company to pay the phone bill I don't quite recall.

Currency. That was our main cargo westbound. Tons of it from the Phildelphia Mint. Passenger seats were rearranged to provide space in which to tie down the pallets of yuan. Flights to the states were of course full of those leaving the impending take-over of Shanghai by the oncoming Red Army.

Our route was through Tokyo (Haneda), Wake Island, Honolulu, and finally SFO. Two navigators were on board to work alternate legs, one navigator being off-loaded at HNL, while the remaining one dragged himself on to SFO. By the time we arrived at HNL, we had been on board for 26 hours plus ground time. You can imagine the physical state of the crew as they continued on for another 12 hours, having shared one bunk for seven or so crew!

We carried two stewardesses. I remember Annie Liang and Betty Ho. Who can forget Betty Ho's substantially most acceptable figure?

The Chinese air regs apprently allowed for this kind of cockpit overtime. Different country, different customs! On the wall behind the desk here in Santa Rosa is a picture of a PB2Y3, a reminder of PAA days, a Tiger Stretch 8, a Swissair nav as well as a Lufthansa nav license, above which is a Republic of China Pilot's License, issued in May of 1947. Signed by Allison. I had NEVER been a pilot. A year or so later we did get a bit of ground school and soon found ourselves in the role of co-pilot of the 4's. Co-pilot? Me? Poor Harold Chinn. Once he had me as a "co-pilot" on a flight to Taipeh. I'd not the foggiest idea of what was going on during our letdown through the weather. Glad that Harold was in good shape and had neither a stroke nor a heart attack! Couldn't have counted on me, for sure.

"For God's sake, TAKE YOUR FOOT OFF THE BRAKES!" said Steve Kusak peacefully. It was a training flight on that tricky Kai Tak Airport of olden days. Well, we survived, thanks to Steve's expertise.

Once upon a time, while on the ramp at SFO awaiting the final paperwork, the ground rep came on board to do what they do. I asked, "Anybody have any mesages for SHA?" "Yea, here's a note." (I've long forgotten for whom.) Into the nav kit goes the note only to be retrieved days after our SHA arrival and yet to be delivered. We were later off to the navy Club for the usual fun, and there I found the note in my pocket. I gave it to someone to, in turn, give it to the final recipient. Little did I know the importance of that note! That too-late-note told of the location of gold bars hidden in the oil tanks. The gold was found, all right, but not by those who were awaiting its arrival. A few days later my apartment was ransacked, and soon thereafter a once-friendly face now scowled at me with these sweet words, "Buddy, you'd better watch it or you'll be face down in the Whangpoo River." The Far East perspective was sometimes not too easy to adjust to.

During the HKG days we lived on Bowen Road, over on the island. We shared an apartment with the Bullers and Bill Sanford. Later on, Joe Welschmeyer and I shared a flat in Kowloon, and there we stayed until the CNAC days were history.

Anyone remember pilots Knapke and Krupke? The pleasant personalities of both of these great people were tested one pleasant day at the Columbia Country Club, way out on Bubbling Well Road. The telephone message board being carried around the lobby and bar by the bellboy read, "Call for Captain Krappke!" Most of us thought it was all funny indeed, but we were all young and full of it and yet to be sensitive to others' feelings.



Joe - thanks for telling some stories - Tom.




If you would like to share any information about Joe Brower, or can tell as good a story,
or would like to be added to the CNAC e-mail distribution list,
please let the CNAC Web Editor know.